The Casita (Main Floor Bedroom)
MORE PHOTOS AFTER DESCRIPTION (SCROLL DOWN)....


The Casita (Main Floor Bedroom)
  
Certified Home


---
368 square feet of living space

Home Measures 8' wide x 30' long x 13'6" tall (optional 8' x 28' with 2' bay)

Trailer size: 8' wide x 30' long triple axle trailer (14,000 lbs axels) 5 1/2" x 3/8" thick steel frame, with trailer brakes.

Sheet metal installed on trailer floor frame to protect Tiny House from all weather elements and critters.

All framing reinforced with 1/2" bolts at corners and base plates.

All 2x4 studs reinforced with hurricane straps.

All 2x6 roof trusses are secured with metal hurricane ties. 

All exterior plywood wrapped, glued and nailed to studs.

R13 insulation in the walls, R21 insulation in the ceiling and floor

All water lines are run on the interior of the tiny home (hidden), to prevent from freezing and breaking.

All PVC grey water drain pipes are stubbed out to bottom exterior of home.  Sewer truck will need to be provided and installed by client or third party.

100 AMP service 

includes 

All plug in receptacles are 12/2 20 AMP wire throughout home approx every 6' per NOAH code.
All lighting are fixtures are LED lighting. 2 lights in master loft bedroom, 1 in guest loft, 1 in main floor bedroom, 1 in bathroom, 1 in kitchen, 1 in living room, ceiling fan with LED Edison light in living room, 1 Edison light on master loft half wall, 1 exterior porch light.
---
Exterior features 
SHOWN: UPGRADED maintenance free Menards Novik Rough Sawn vinyl cedar shake siding (SKU# 1467579 Cedar Blend Color). Door color Your Choice. White Aluminum Fascia. Interior walls are 1/4" thick wainscoting painted Sherman Williams color 7022 Alpaca, natural wood ceiling.
---
Flooring
Linoleum wood grain flooring choose from colors available SHOWN: (Menards Mountain Oak 729-1018) throughout entire home.
---
2 upper loft area
Master Loft above Bathroom and Kitchen (7.5'x10'), And one above main floor bedroom (7.5 x6') Stairway to master loft with black pipe railing. Master Loft has 16" half wall, guest loft has 14" half wall. With telescopic ladder for access to guest loft (optional custom made wall hanging ladder) with black pipe railing. USB charger/outlet. 
---
Main Floor Bedroom 
7.5x8' including 2' Bay, pocket door entry from living room. Ceiling height is 6'5.5". USB charger/outlet.
---
Bathroom features
48" shower, and vanity cabinet (Menards 24" Euro 6059047) and mirror cabinet (Menards Zenith white 677-5212). Includes shower curtain and liner. 20 gal water heater (optional tankless water heater available), standard size toilet (optional rough in for composting Waterless Toilet available). Exhaust fan above toilet. Custom built black pipe 2 tier swivel towel rack and toilet paper holder to match. Pocket door entry. Ceiling height is 6'5.5".
---
Kitchen features 
Stainless Criterion 9.9 cu.ft. refrigerator (Menards 4538052). Stainless appliance upgrade. LG 2.3 cu ft Silver Washer/Dryer Combo Unit (Home Depot SKU #1001862115) Unique® Signature 24" Stainless Steel Off Grid Propane Range with propane lines installed and small storage shed on tongue of trailer to house 2 tanks.  Exhaust fan above stove.  Full size pre-finished white cabinets, With full size stainless steel two bowl sink, brushed nickel gooseneck faucet with detachable spray head. Butcher block countertops. Ceiling height is 6'5.5". 2 tier pine black pipe shelving under stairs. Custom pine/black pipe shelving in kitchen 2 tier. USB charger/outlets.
---
Living room features 
Industrial Cage Ceiling Fan (Menards SKU# 3550233), 32" Proscan Flat Screen TV, IKEA 30" fold up table. Storage shelves above couch. USB charger/outlets. Smoke detector, carbon monoxide detector.
---
Does not include utility hookup. Third party required to level home, anchor home, install main sewer trunk for grey water, connect electricity, water, and sewer.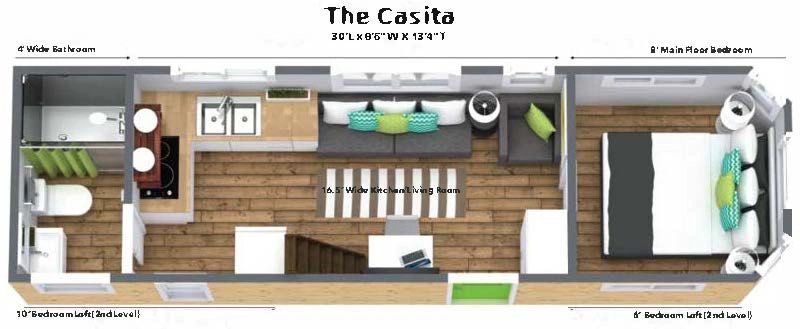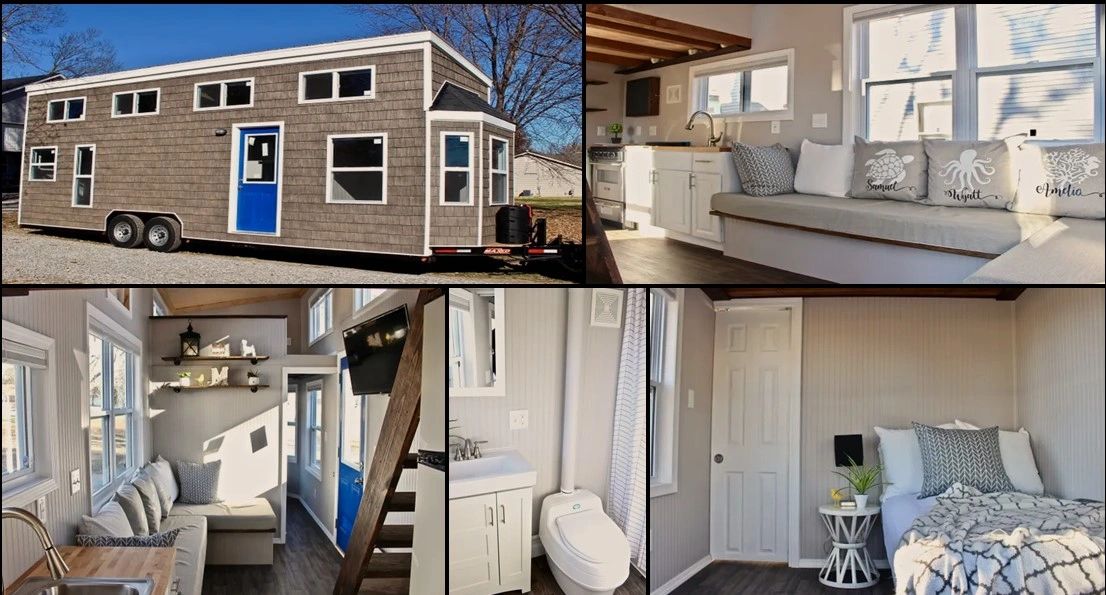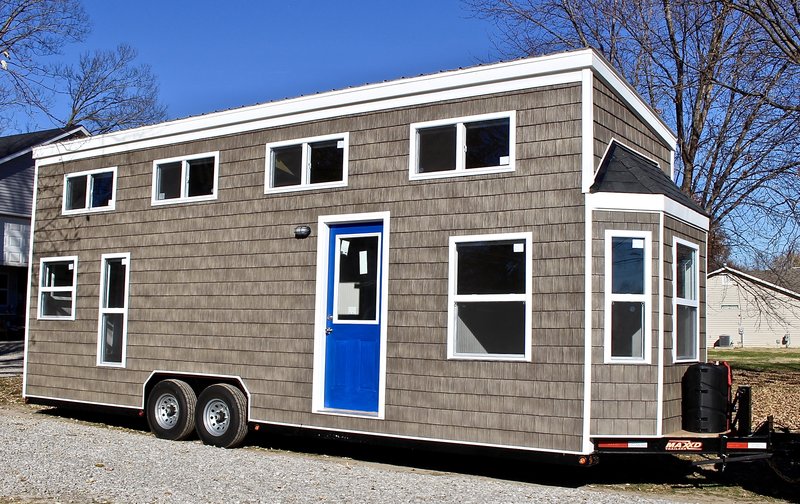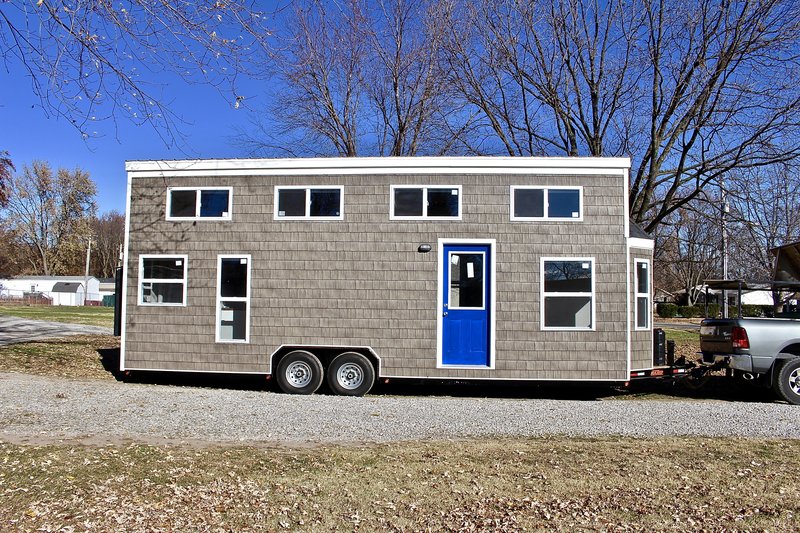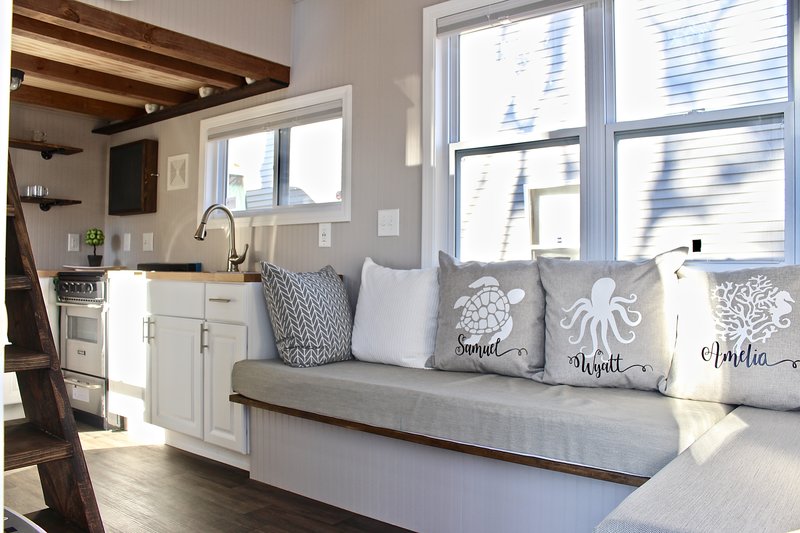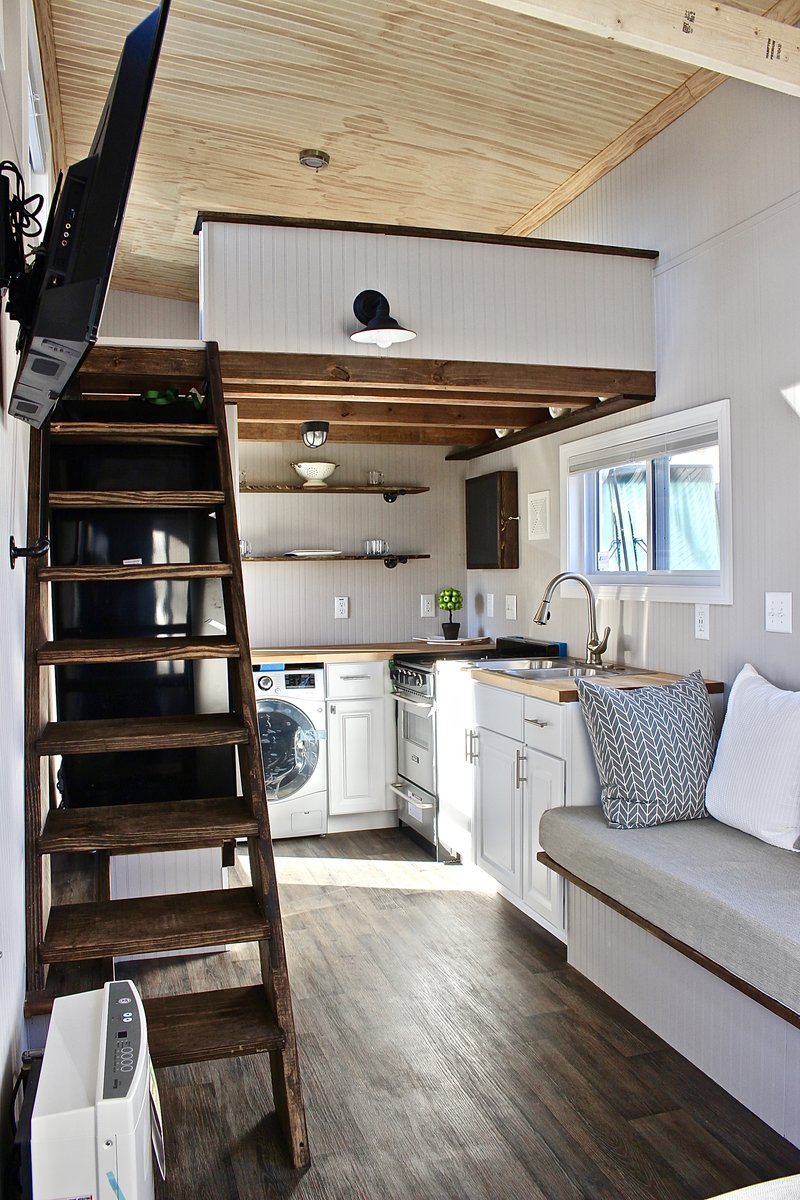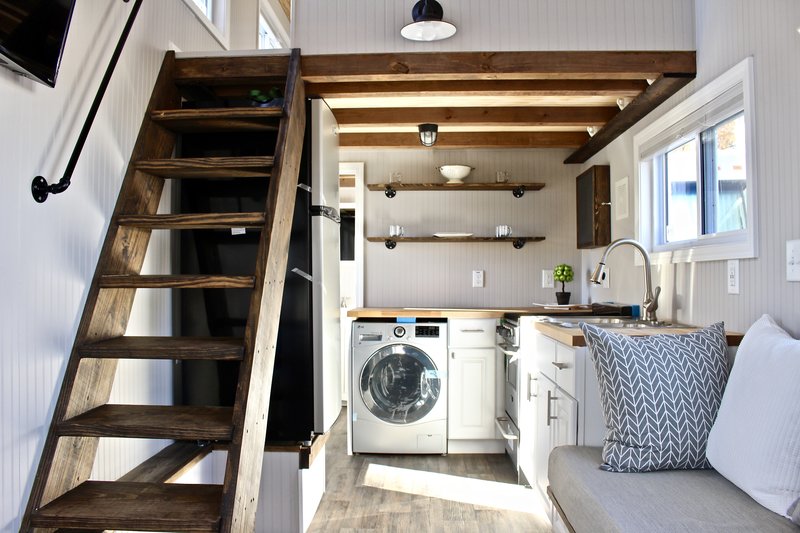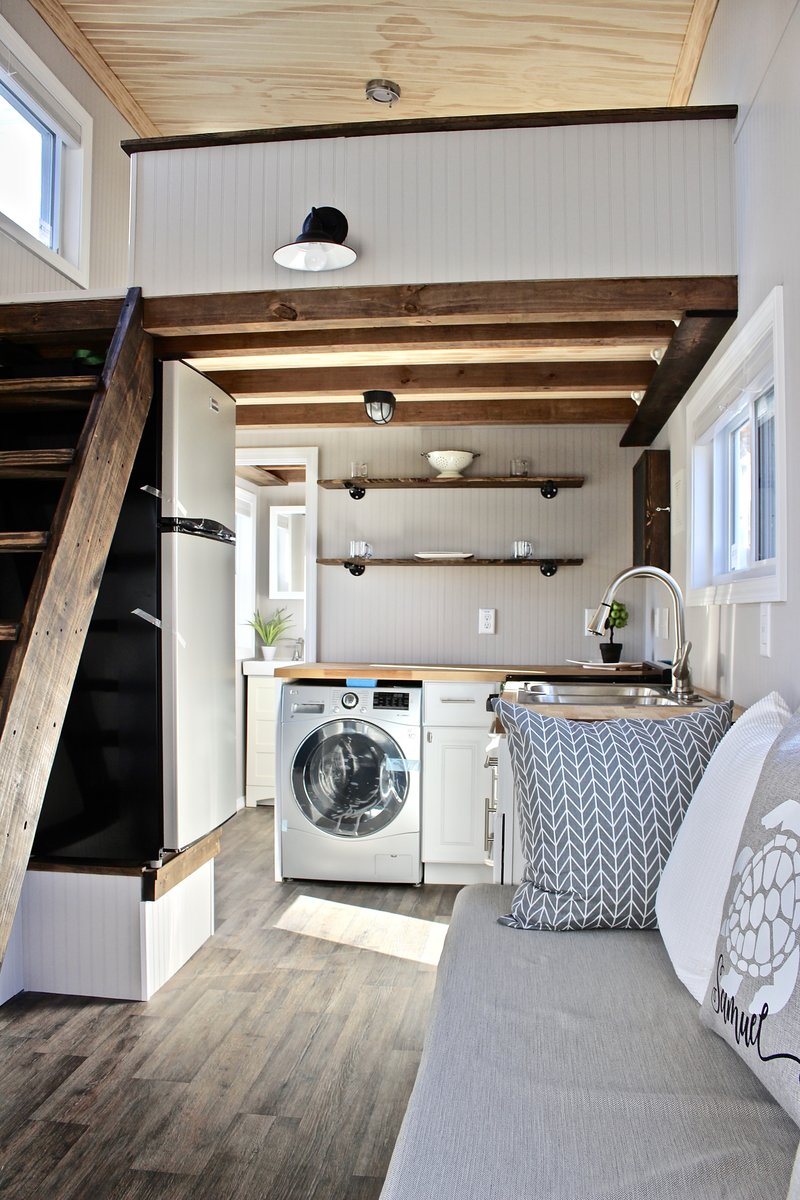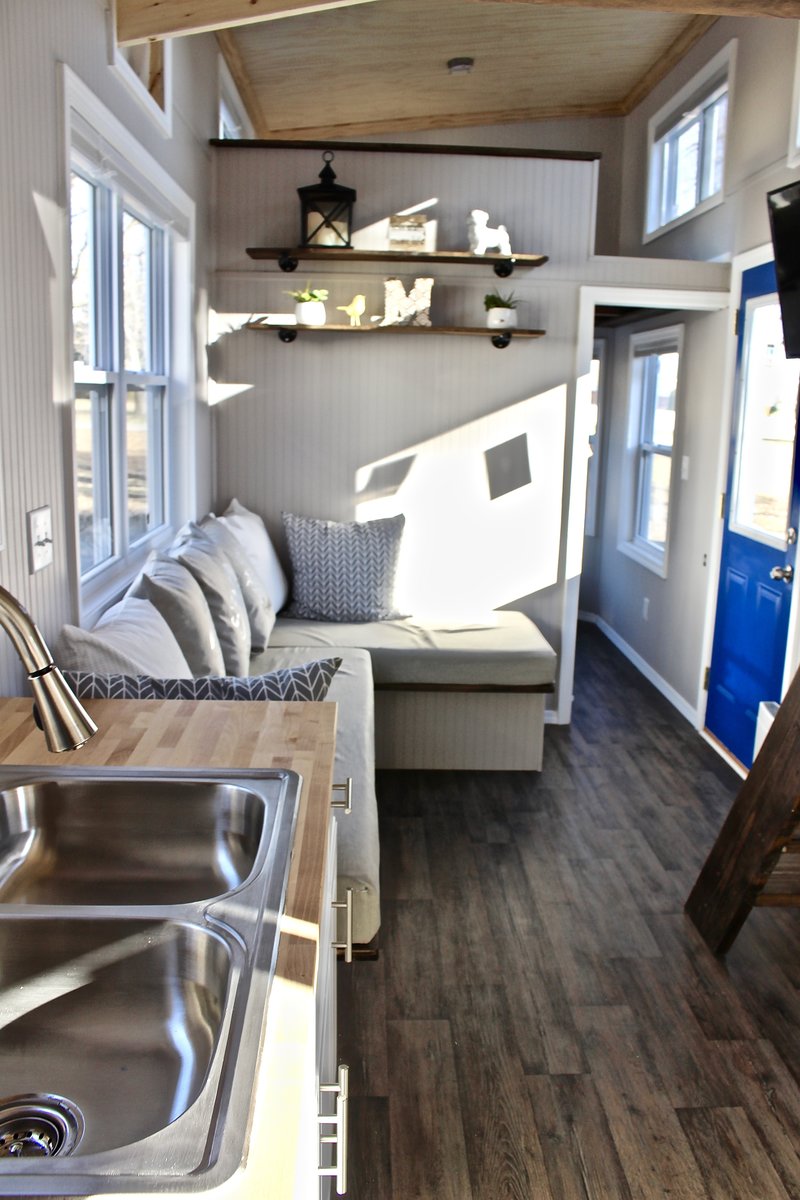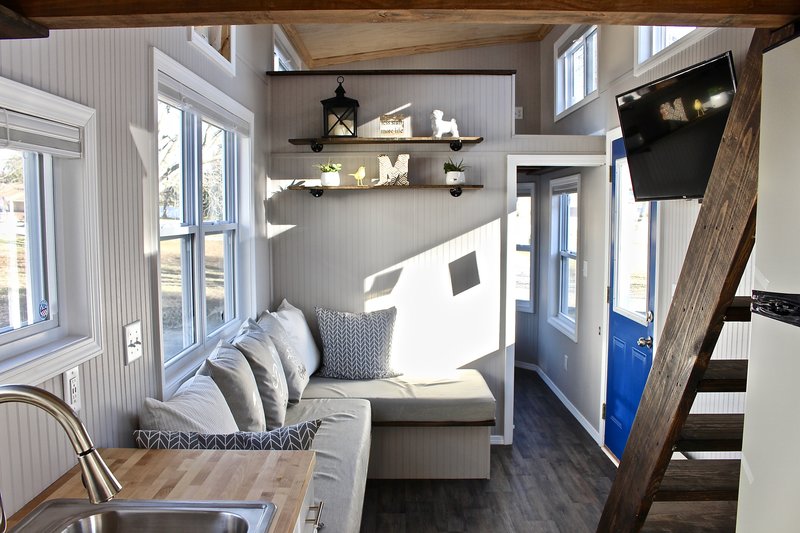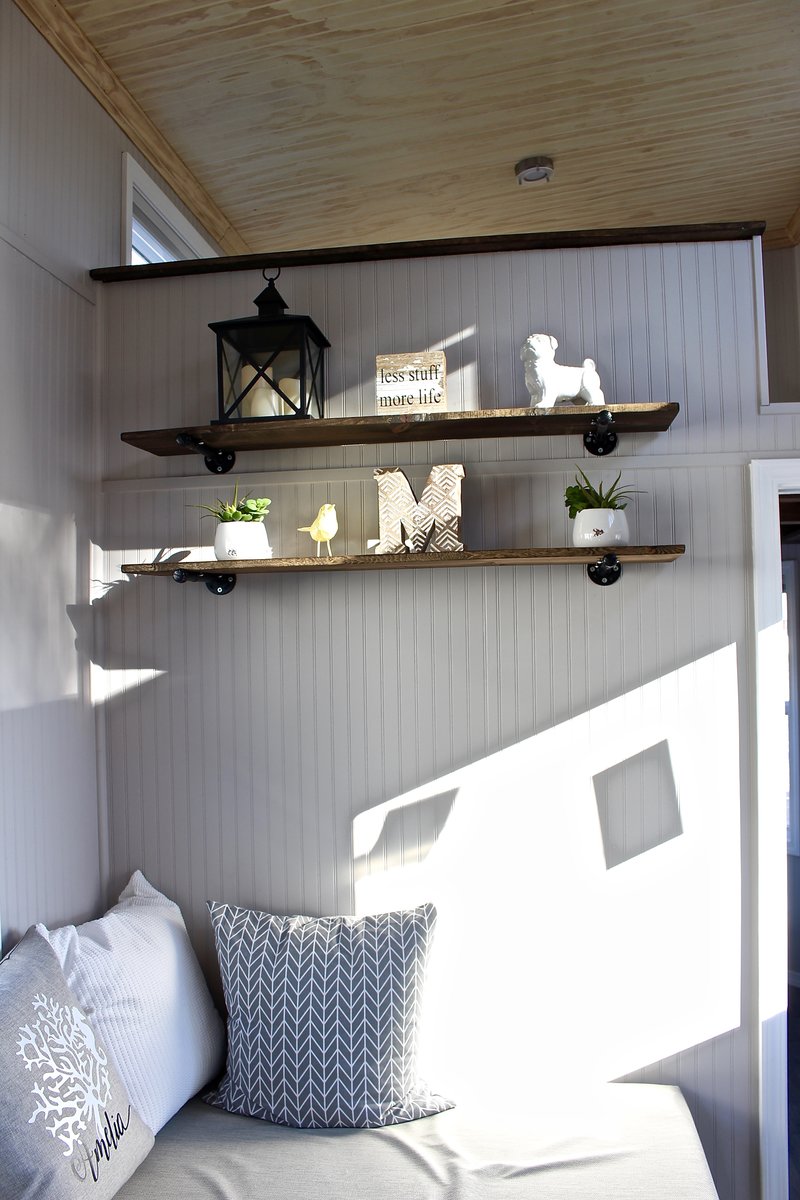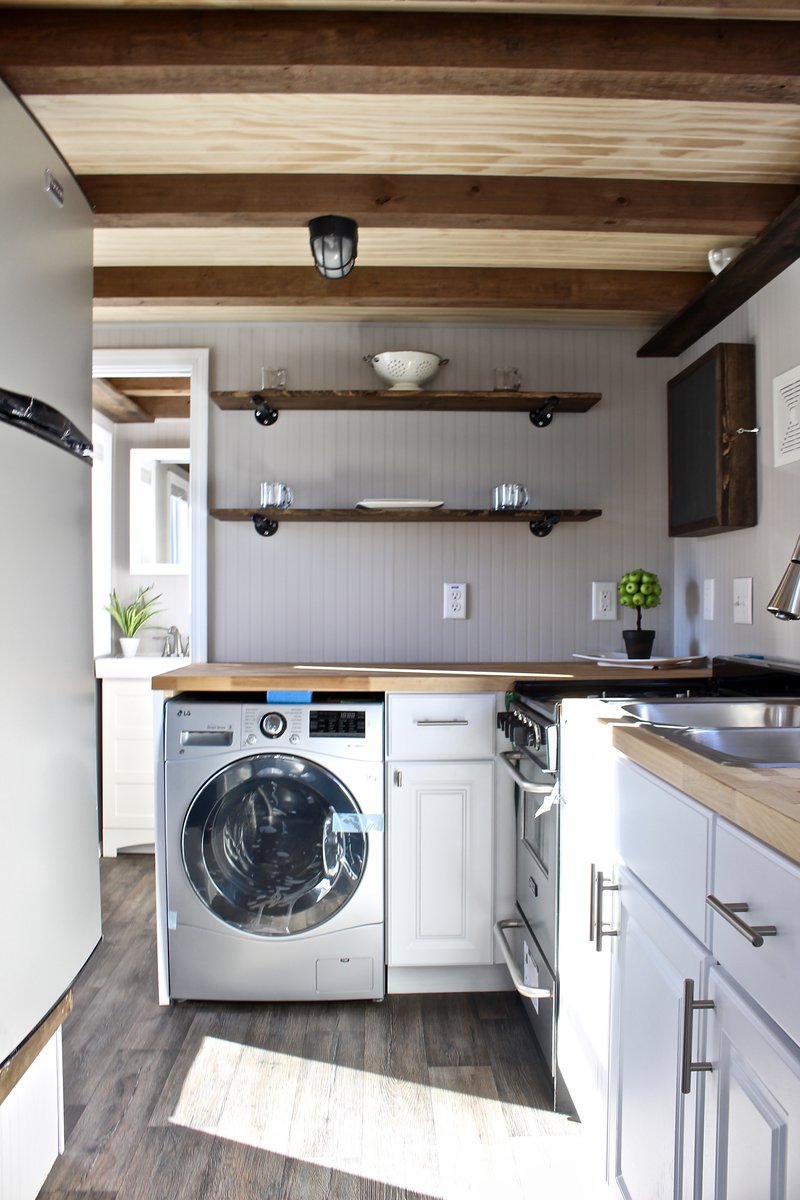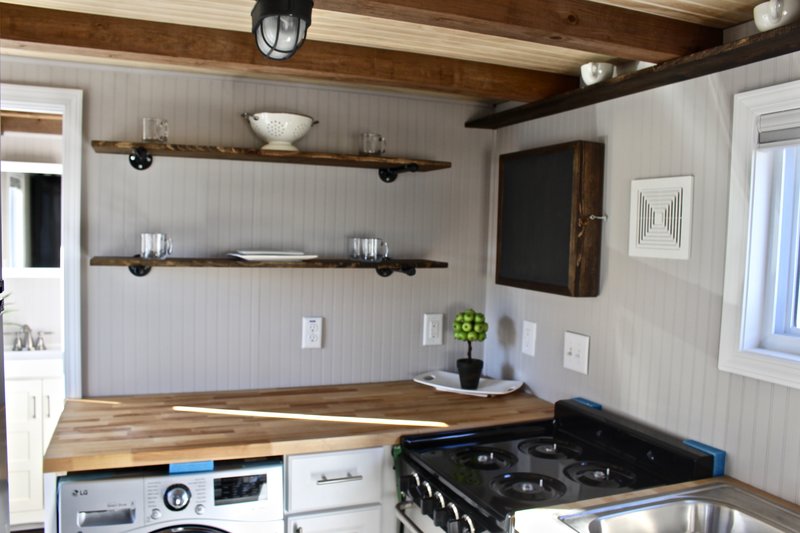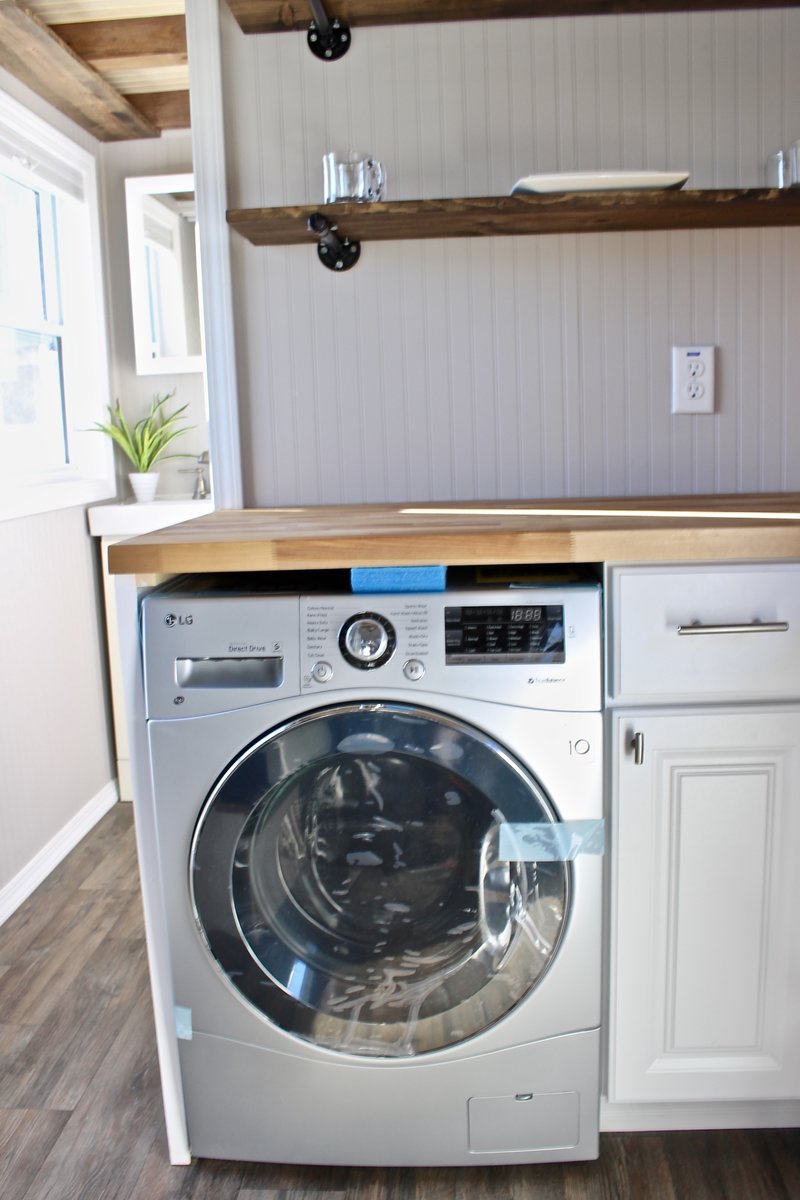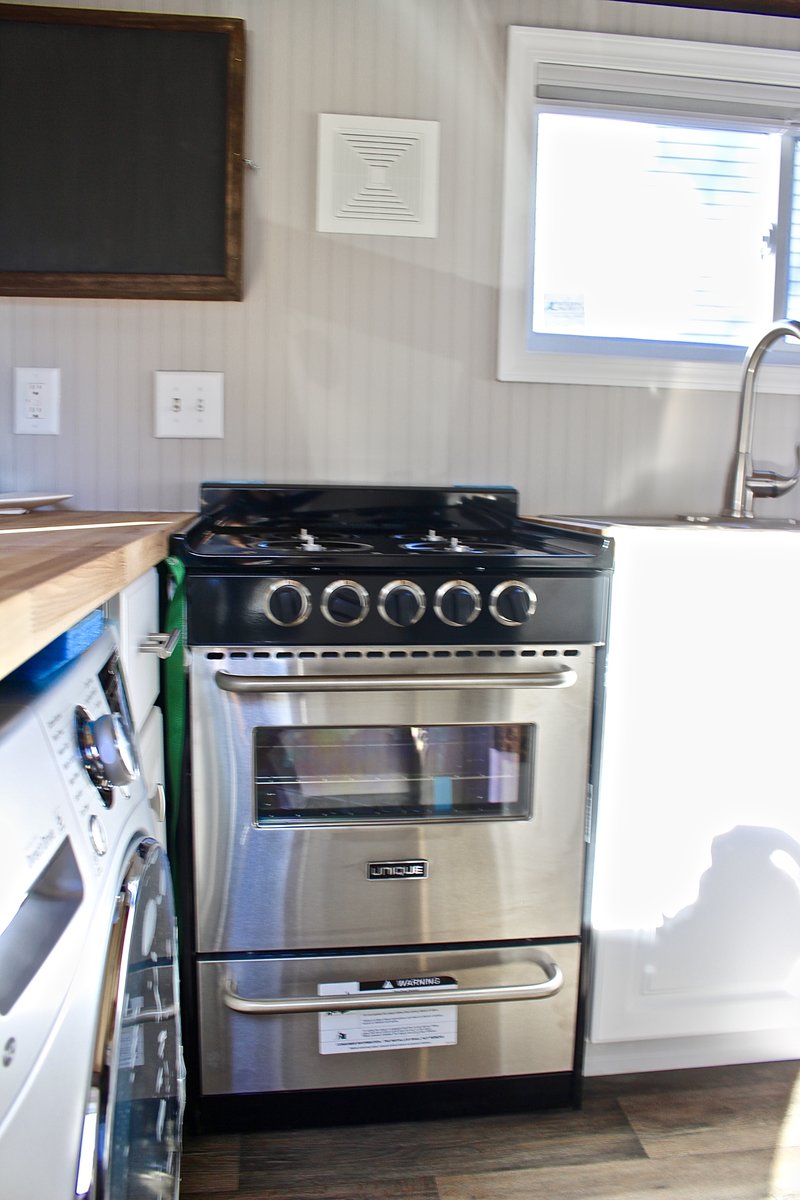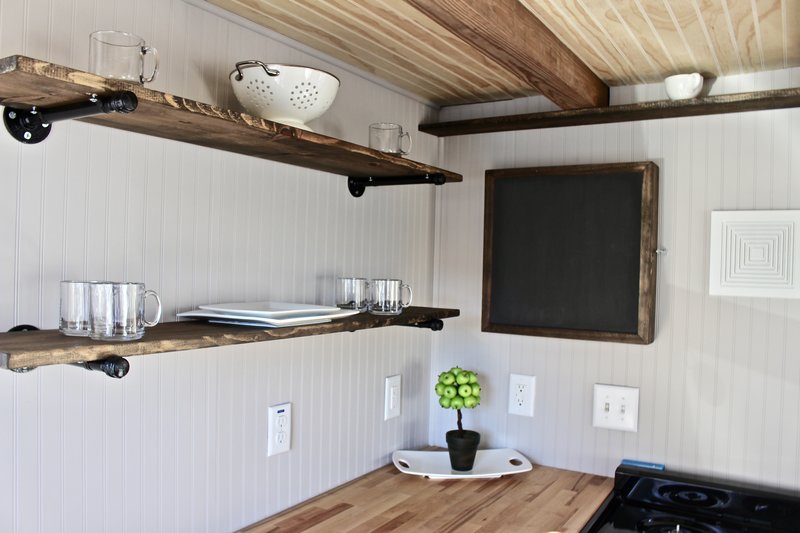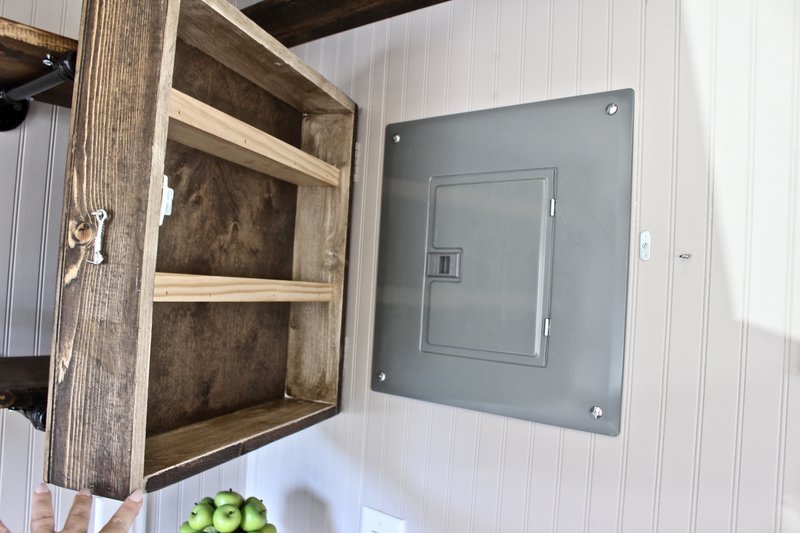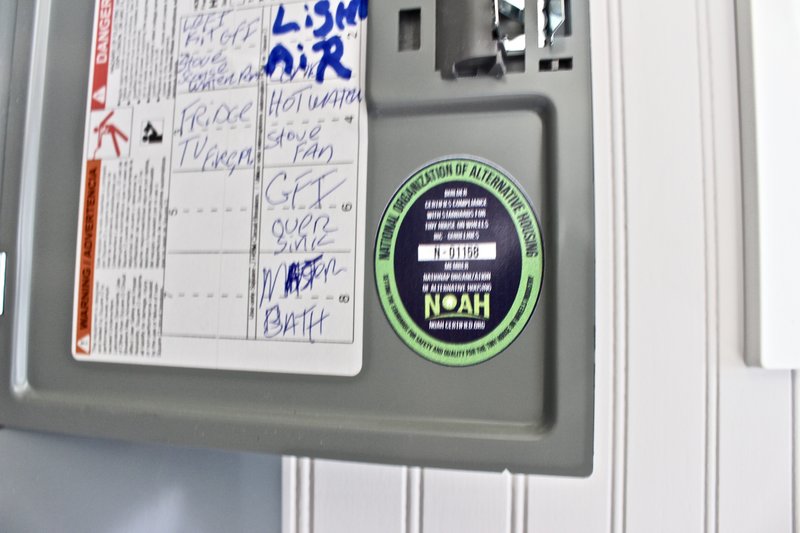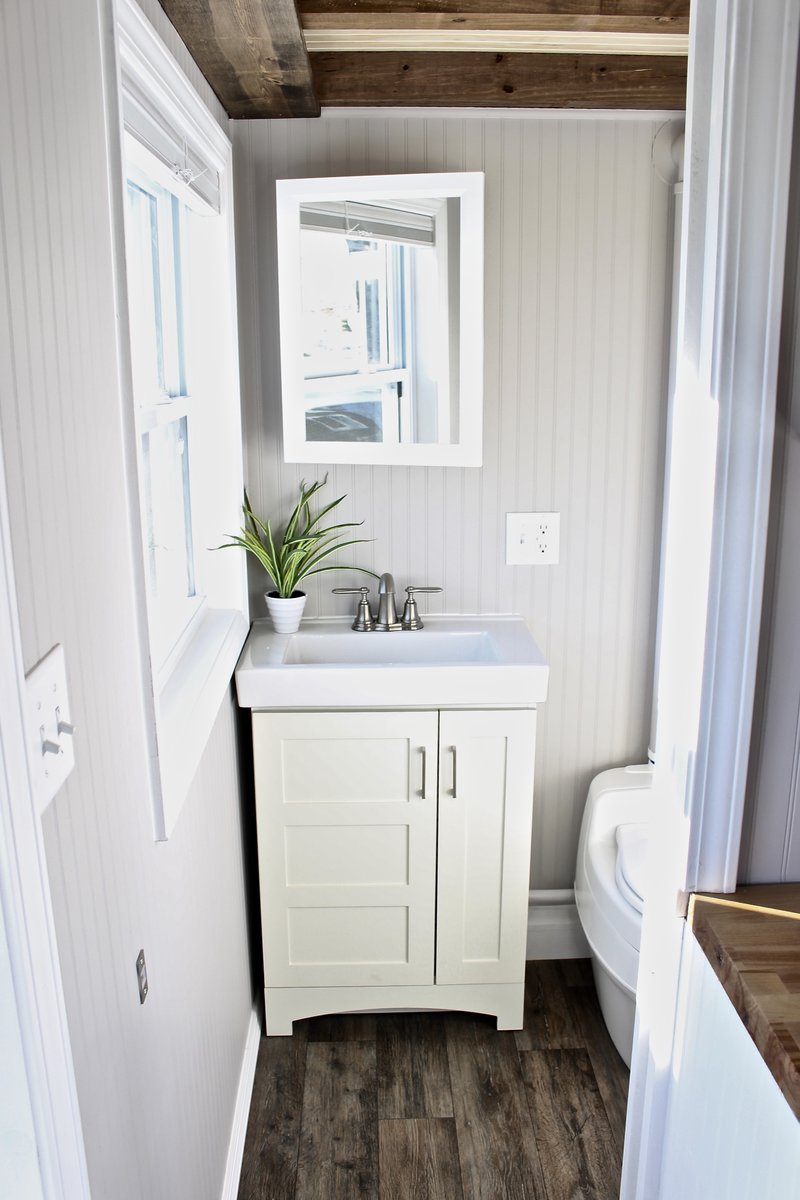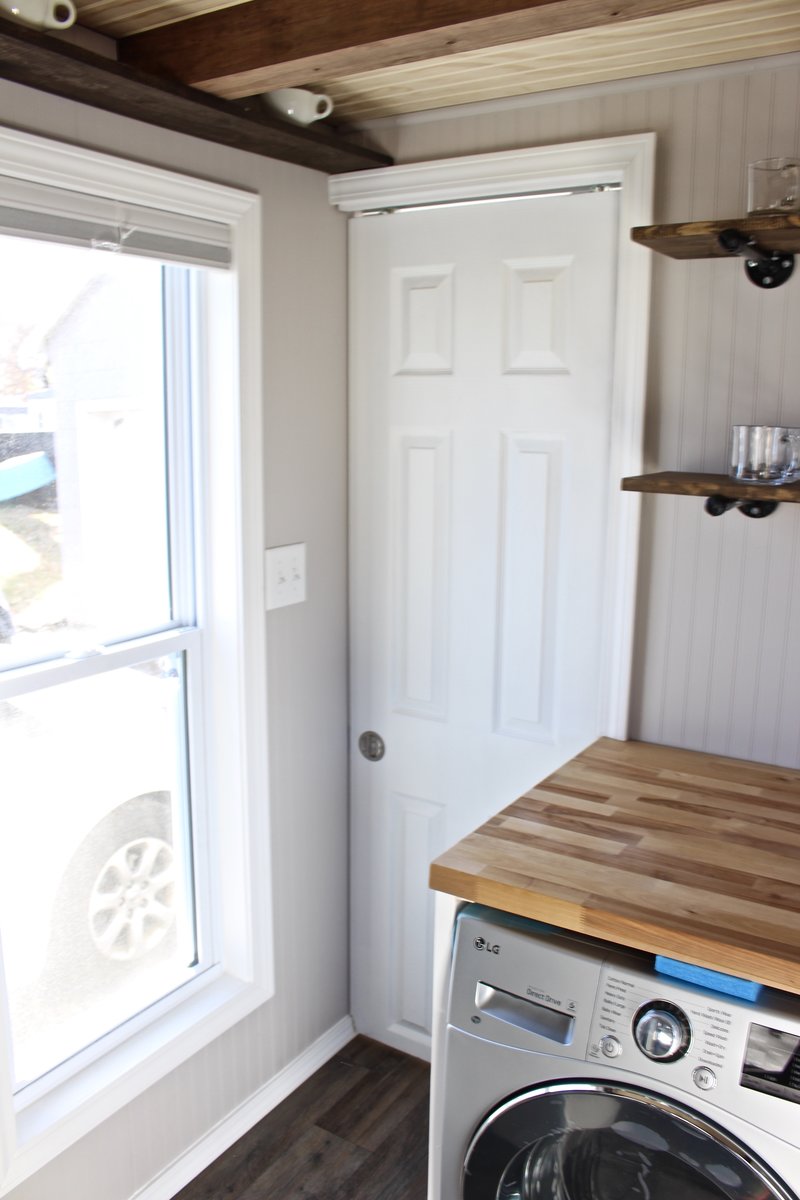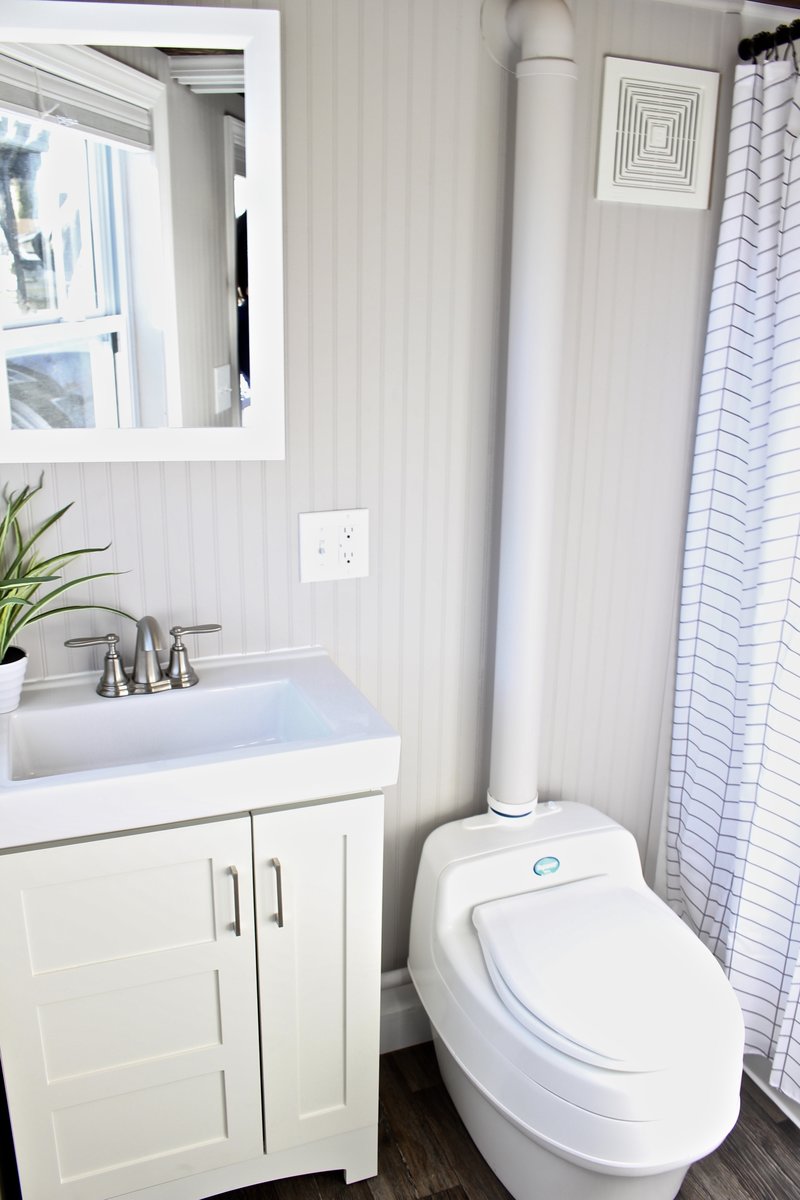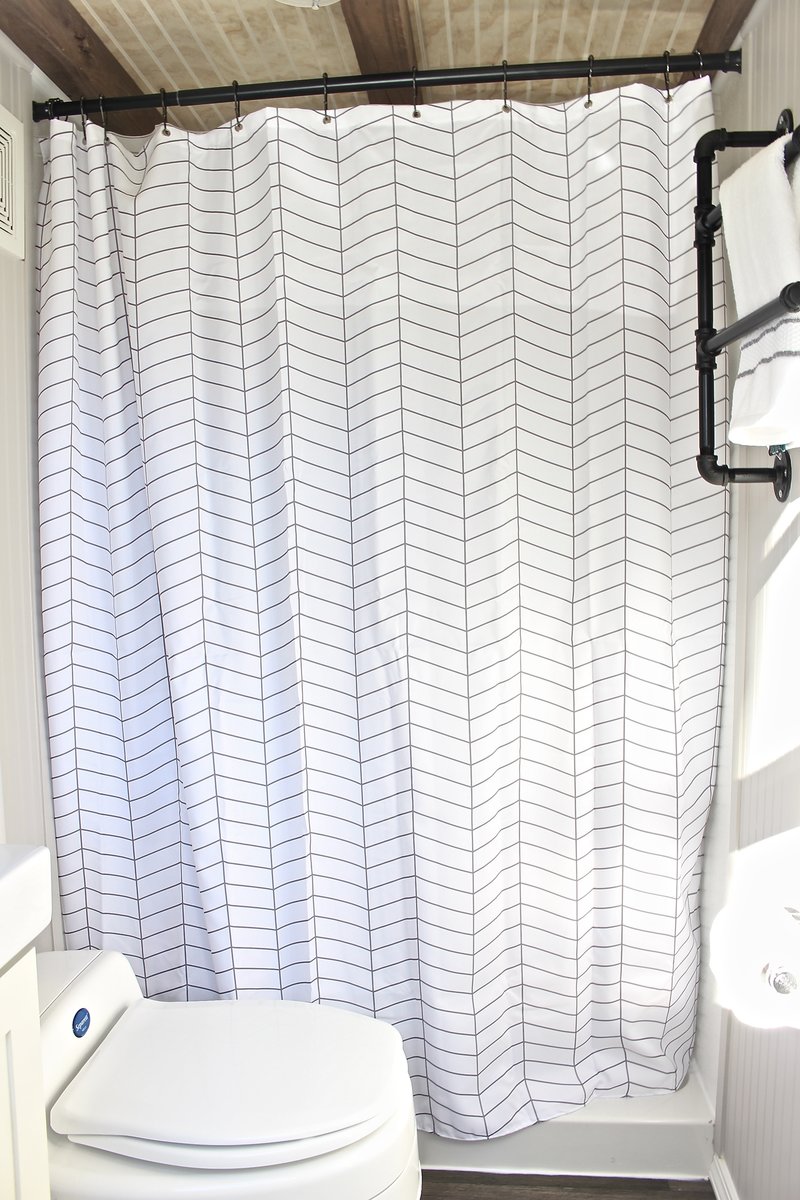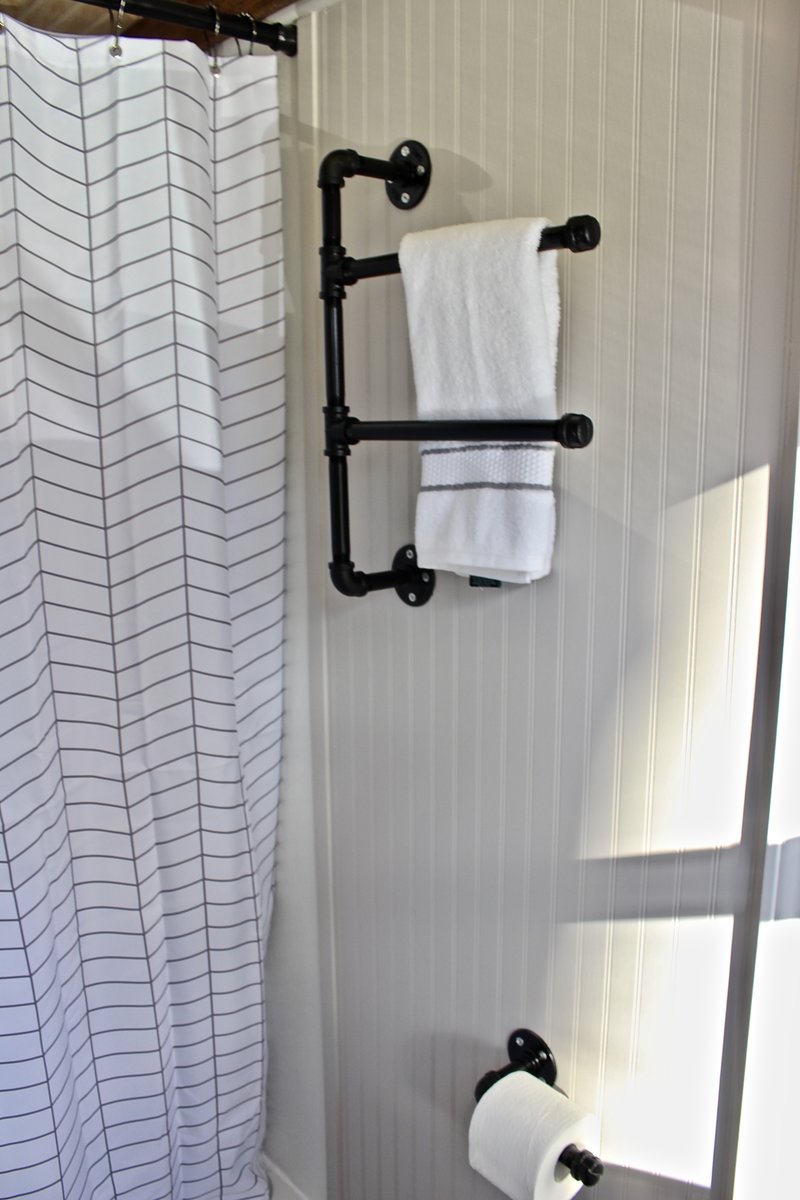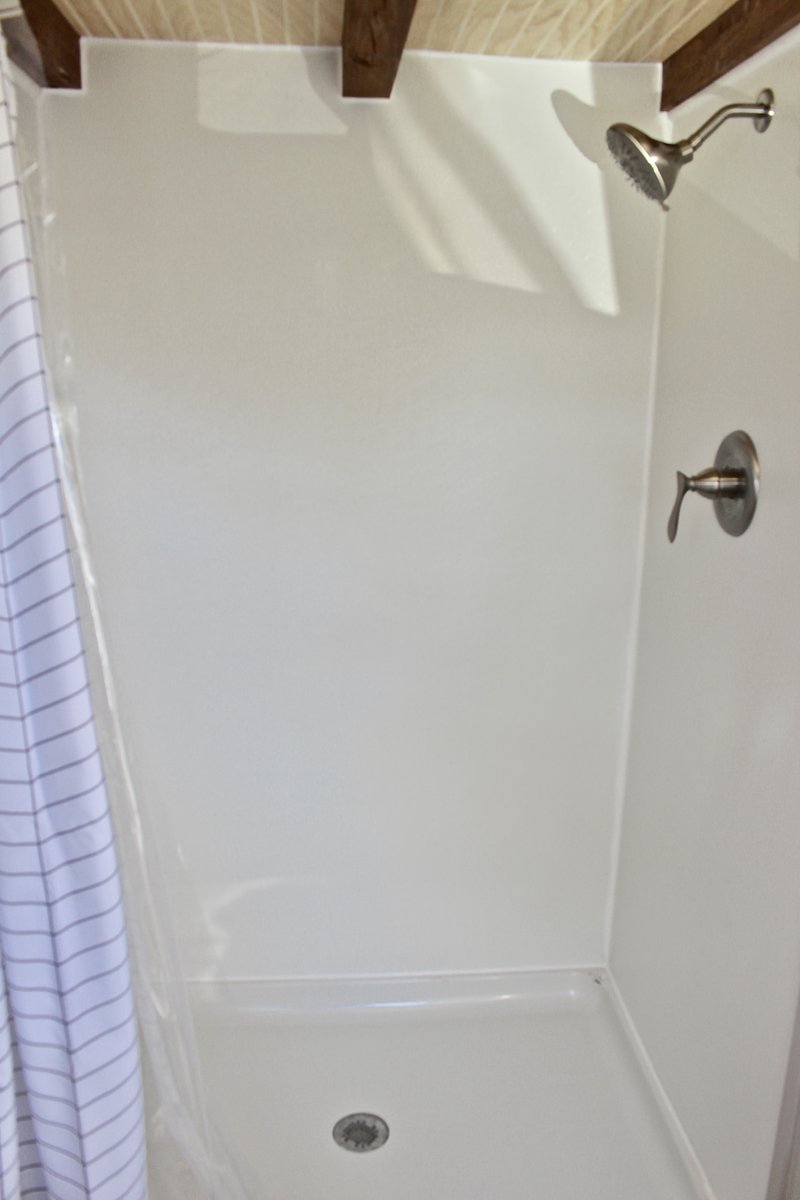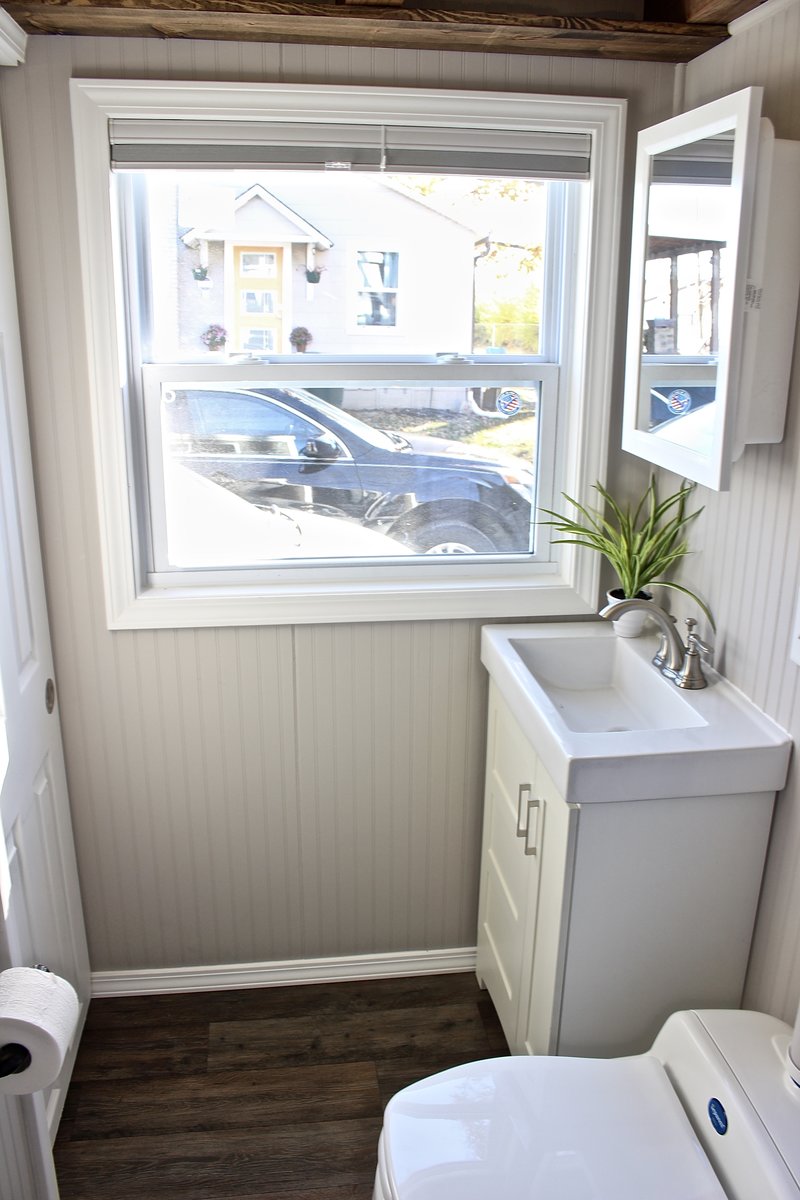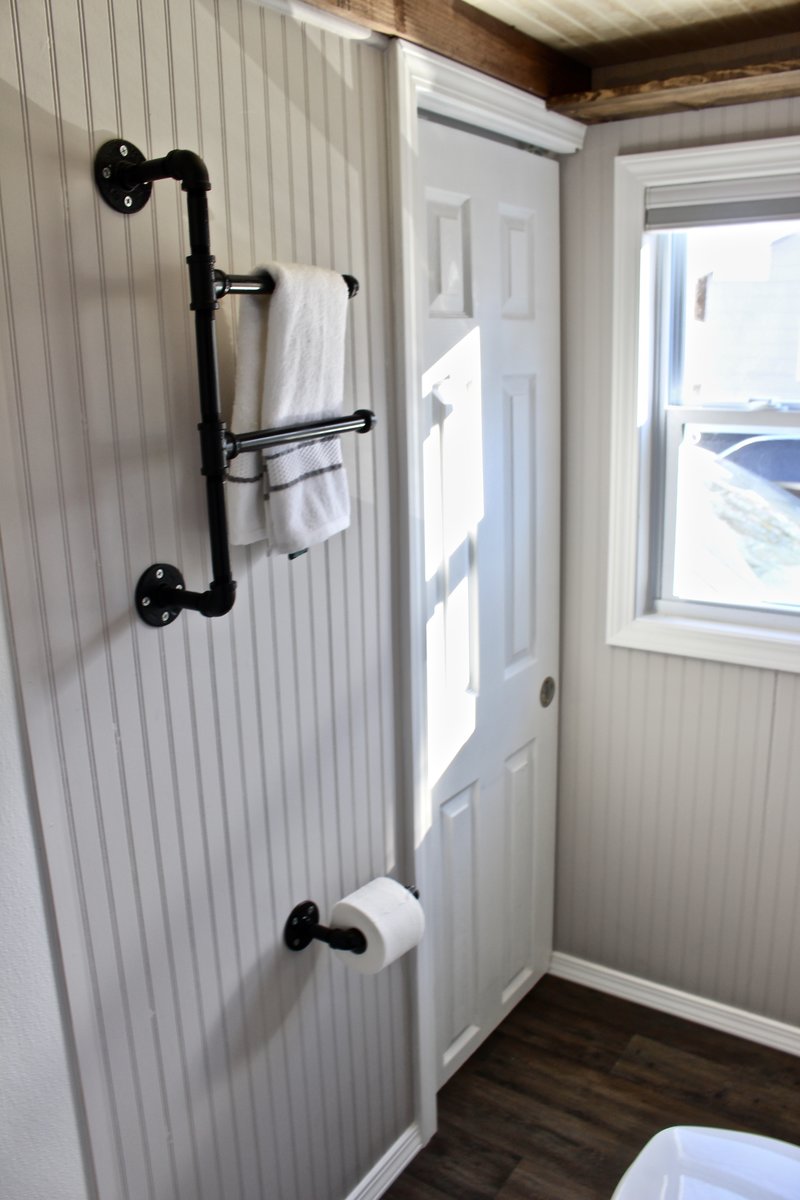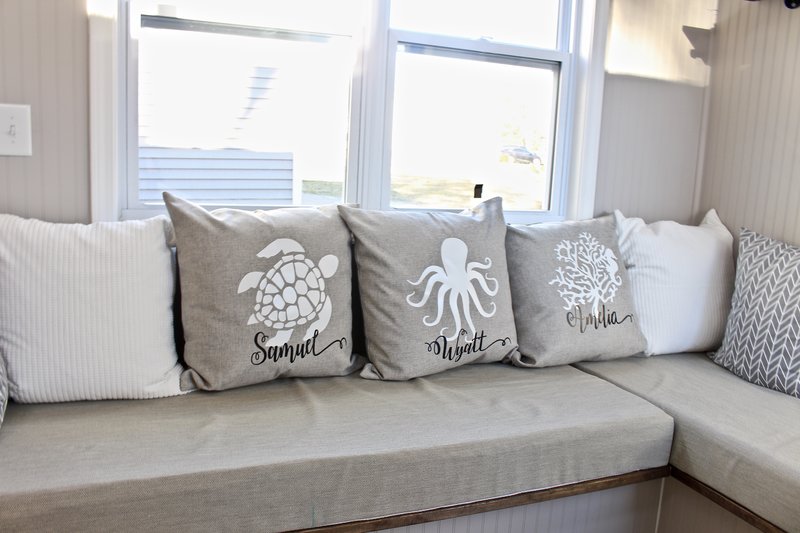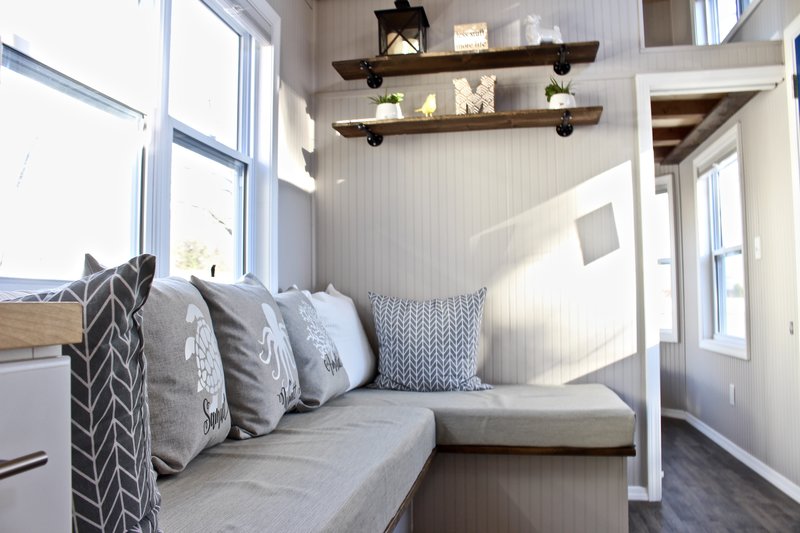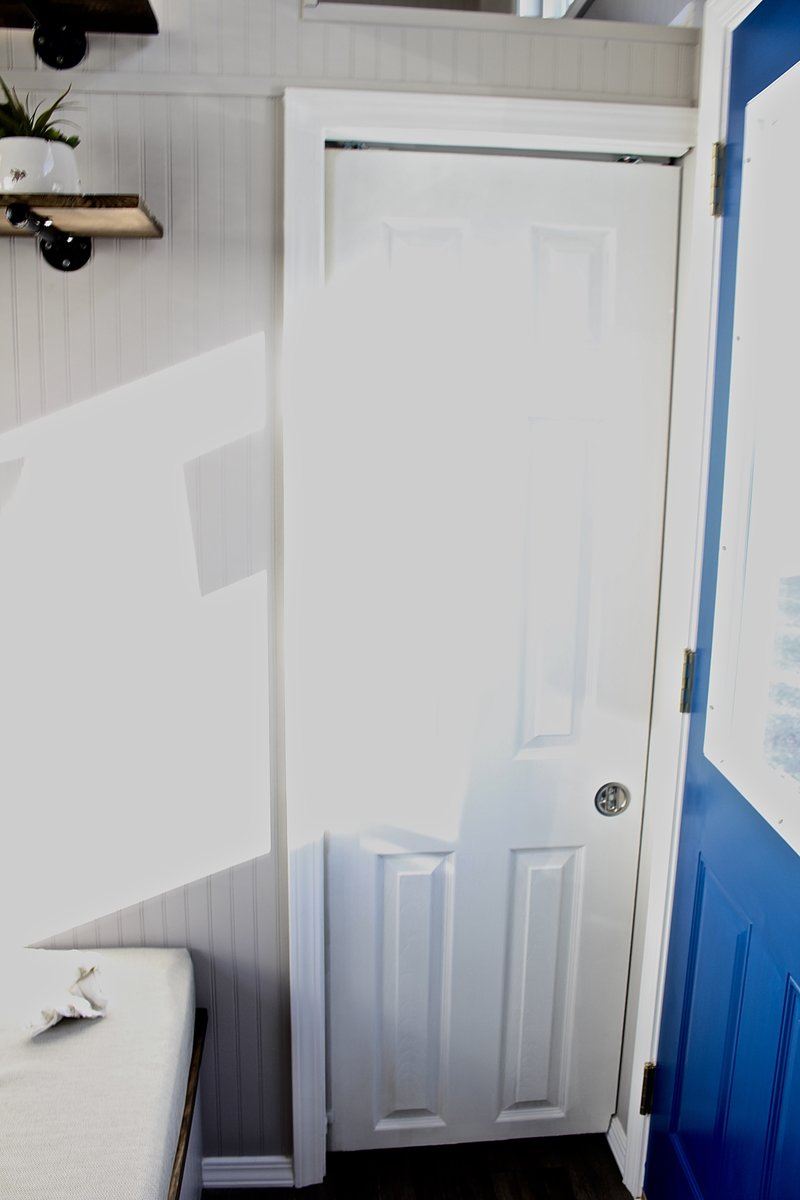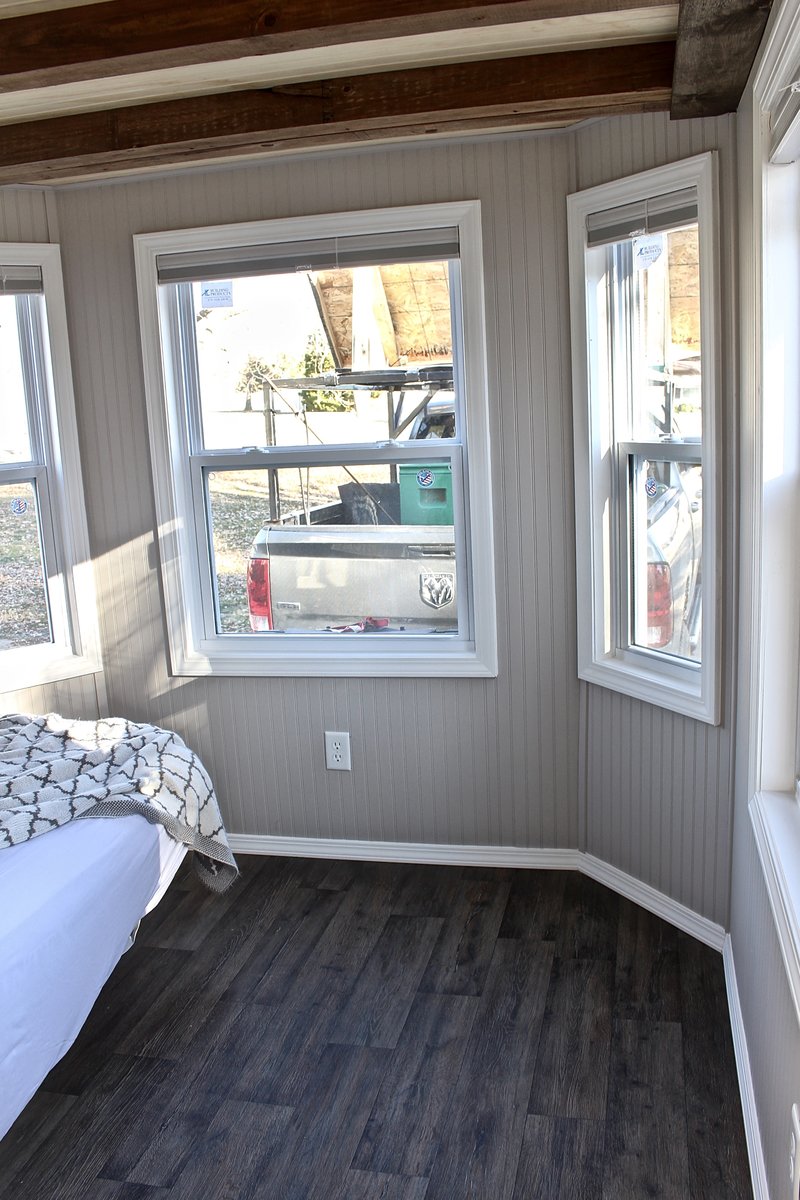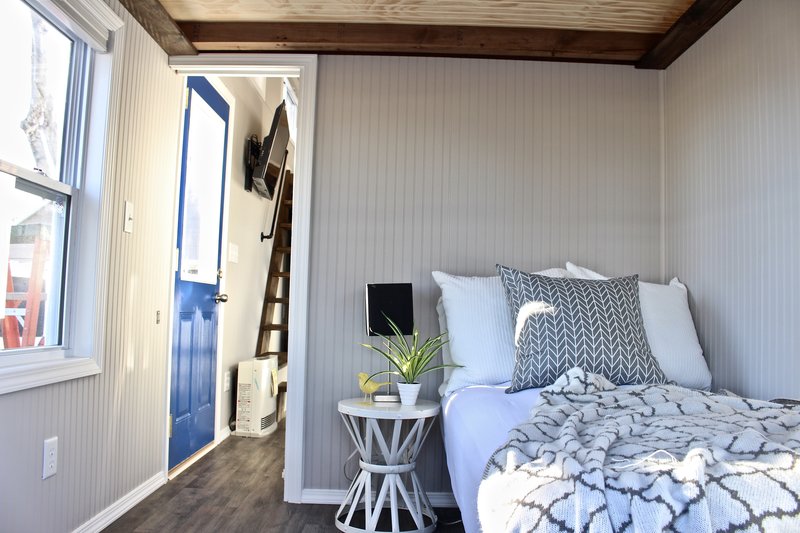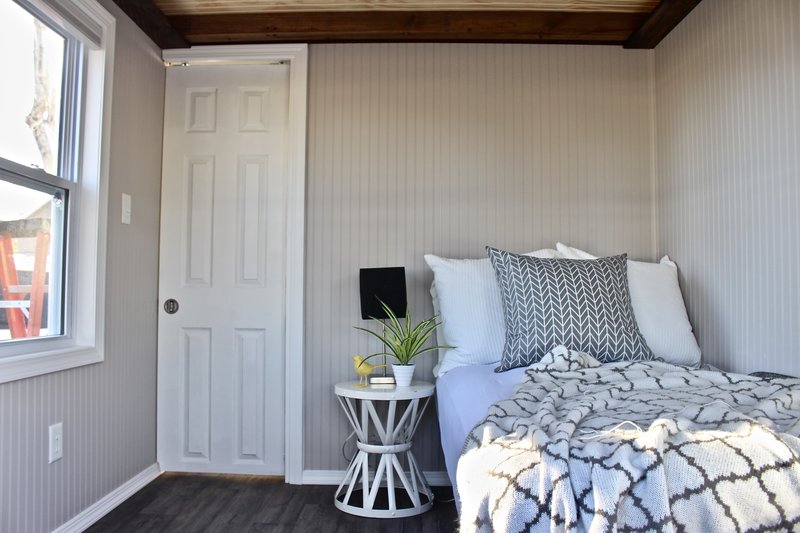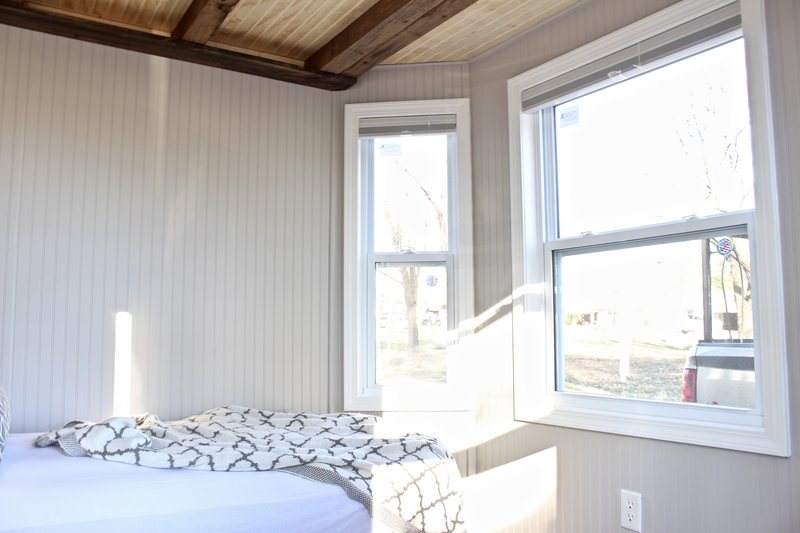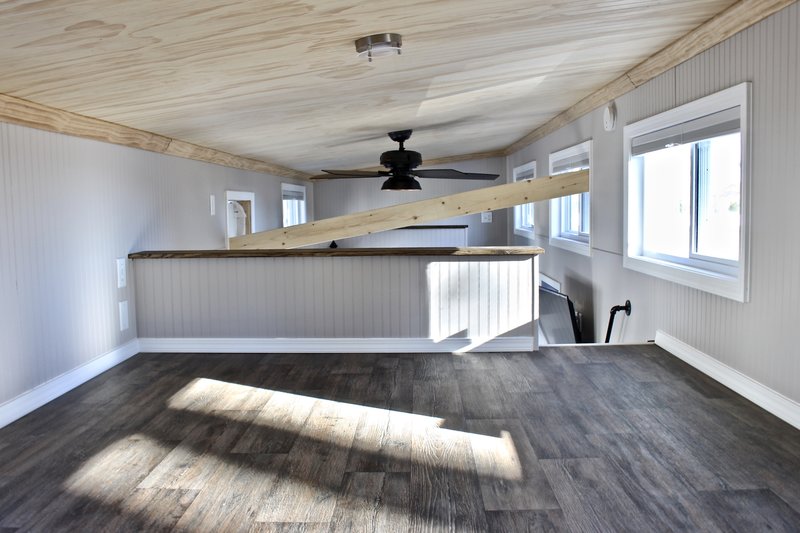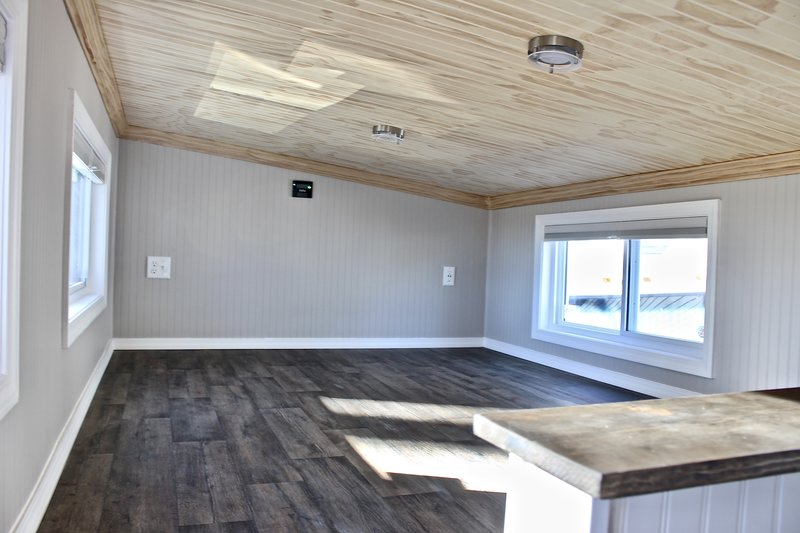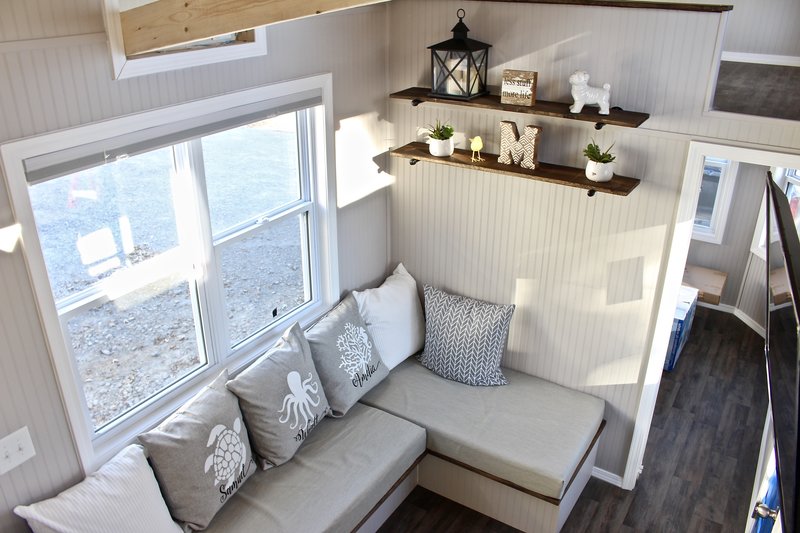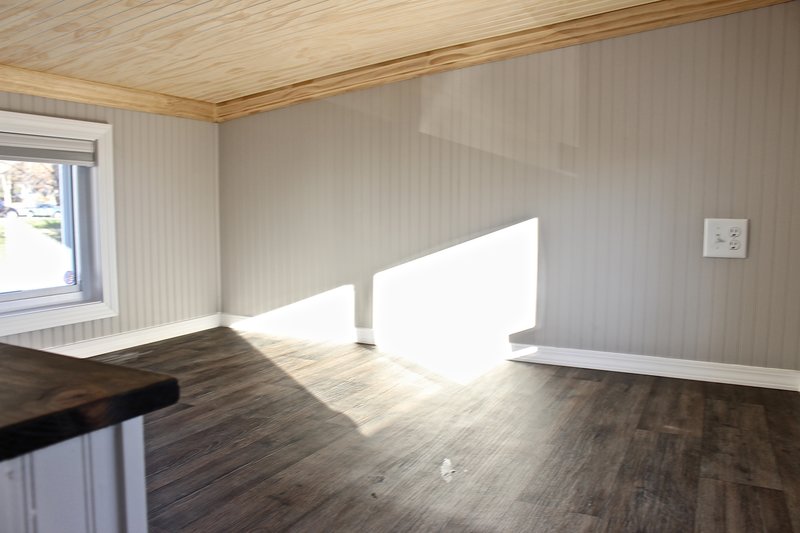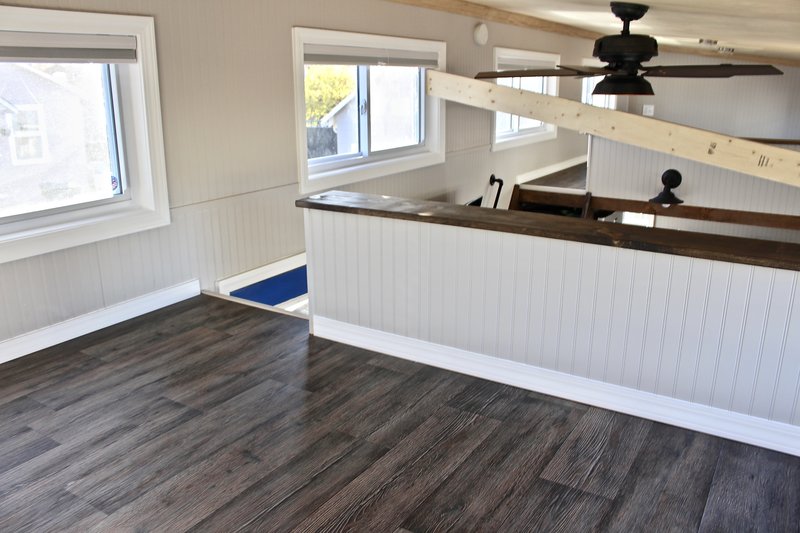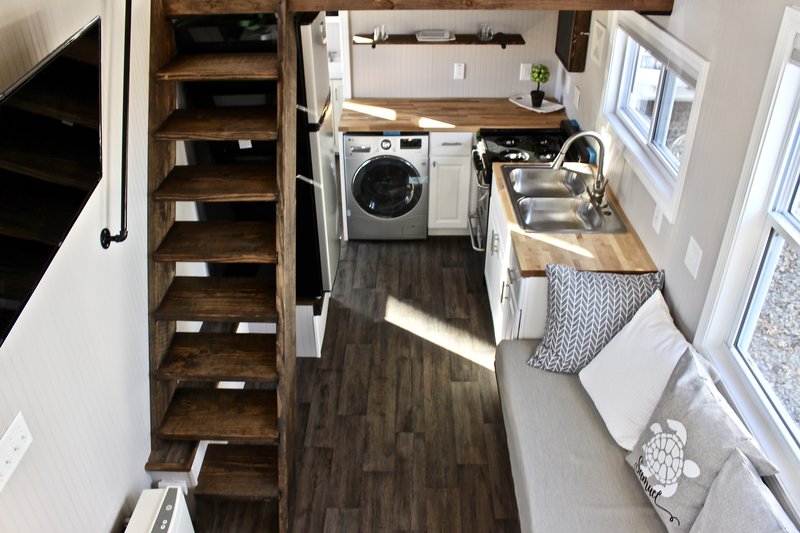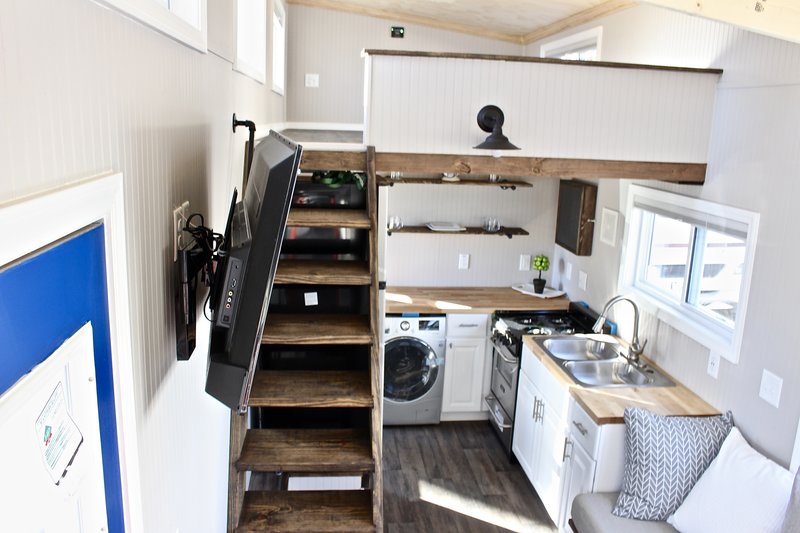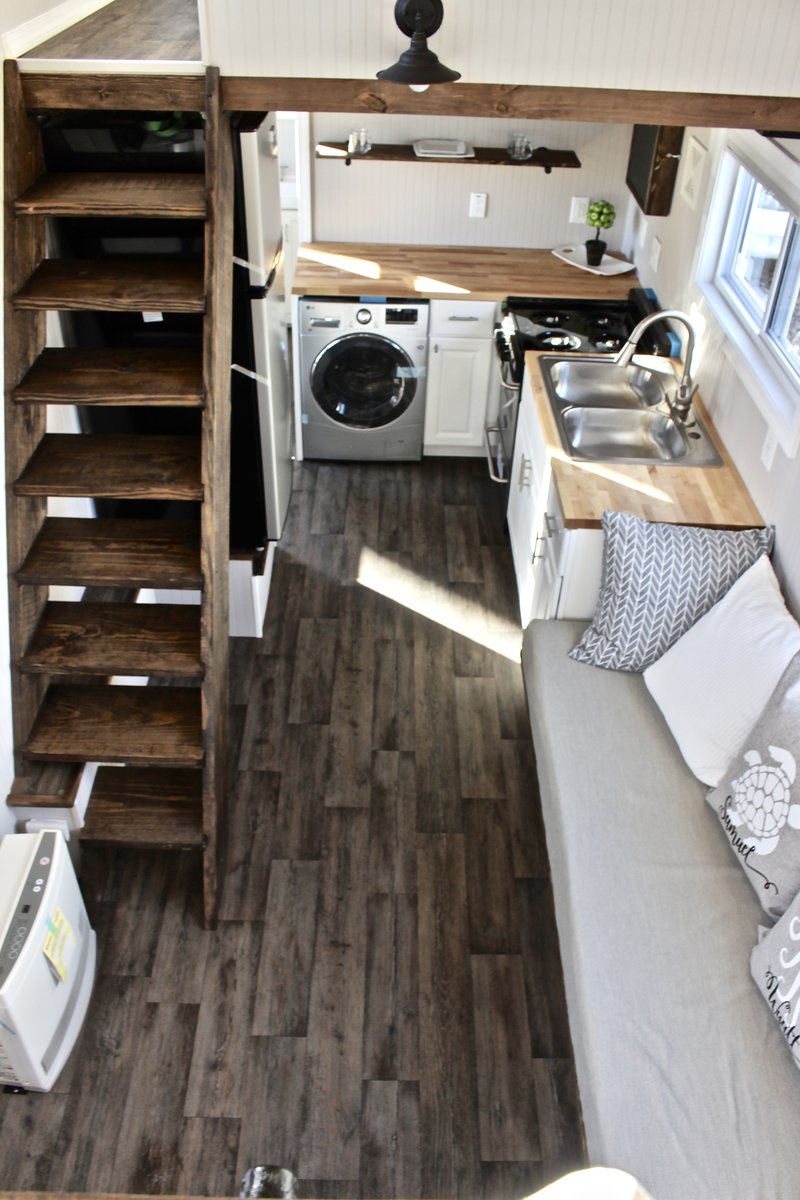 Reviews