My mini mansion truly ROCKS!

-MARIO from Waco, TX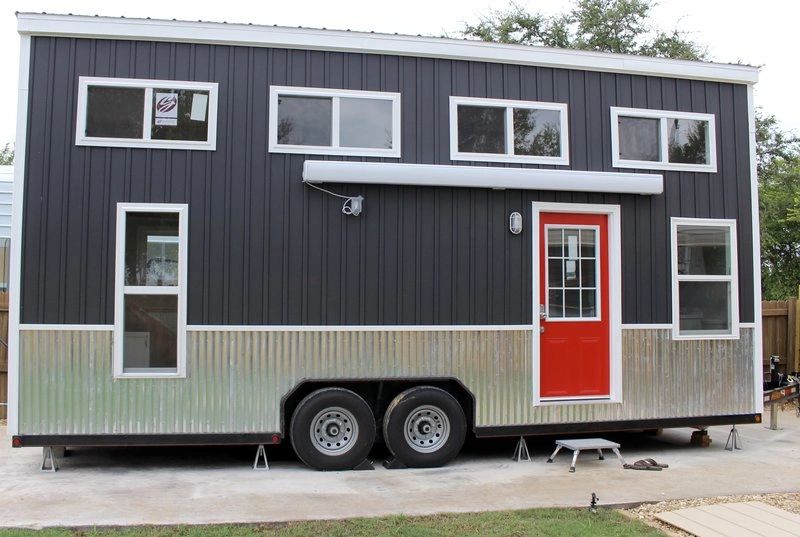 I just wanted to thank you both for such a wonderful experience in the purchase of my tiny house.  I remember when I started researching different builders throughout the country and I had narrowed it down between you guys, Tumbleweed Tiny House in Colorado, and Tiny House Cottages in San Diego.  As I made phone calls and asked questions the one thing that caught my attention was Mark's sincerity and the fact that he answered every one of my questions to the "T".  And when he mentioned that he build every house himself and offered details on the trailer frame and structure of the house, I was sold.  In the past I had worked for a major national mobile home construction company as Plant Manager and one thing is for certain, I have never seen a house built as solidly as yours.  The attention to detail in the substructure as well as the material used is just superb.  I have to say is an overkill but I guess when you build each home as if it was for yourself, is to be expected.  I know this home will last for generations to come.

My experience during the build process was just plainly a delight.  I felt like I had known you guys since High School.  How you guys communicated with me through the build process and entertain every crazy idea that passed through my mind was just a true delight.  You guys delivered the tiny house of my dreams.  How you both personally went above and beyond to ensure the house was delivered and set-up before I returned from my trip in California was impressive to say the least.  When I opened the door and walked inside I could not stop smiling.  I was so excited and happy that I had to call you guys and tell you how happy I was.  I know it was a late night call but you still answered the phone.  You guys are special people who build the best tiny houses around.  You care more about the customer and the quality of product you deliver and it really showed.  You guys have earned my friendship for life!     
---

Best of luck, 

and thanks again!
-CAP from Pine Island, MN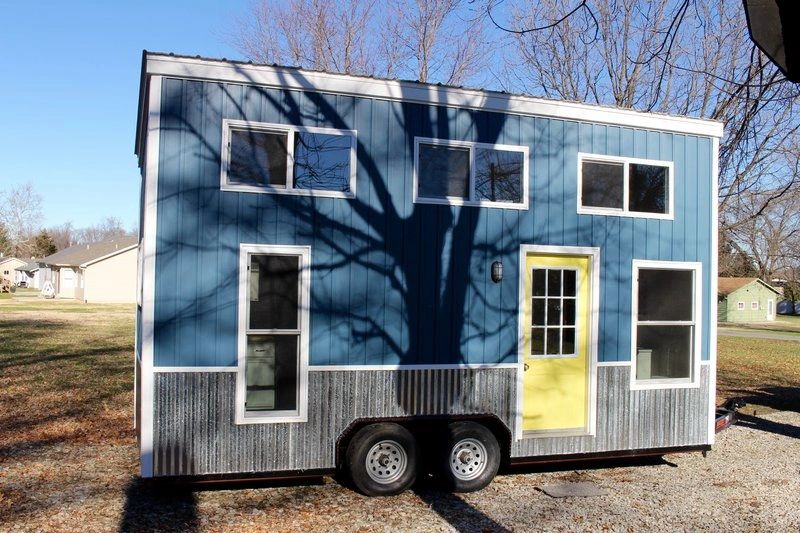 I hope you guys are exploding and judging by your newly built factory your work is not going un-noticed! I have to tell you that as sad as it is, we did have to list the Tiny house to recoup the money for long term care. We did not know what to expect, and we were hopeful, but did not anticipate a fast turnover. Within 1 week we had numerous responses (some we expect were spam) and had two people come and take a look at it. The woman, who ended up buying without even uttering a lower offer, had brought with her a licensed builder to inspect it for her. He was absolutely astonished at how well it was built! He must have said 100 times that this was the best built TH he had ever looked at, and praised your workmanship and attention to detail from a structural standpoint all the way up. That made us feel VERY good, and you guys should be very proud of your work, just like I know you are.
Thank you both so much for everything you did for us, and for offering us such a personal experience as that was very important to us all given the situation.
I just sent the other potential buyer a response letting him know that ours was sold, but I gave him your information along with a 6 out of 5 star review and a very strong urge to get in touch with you about what he needs. His name is Bryan and he's from Minneapolis/St. Paul. He will be retiring in 5-6 months and is looking for a new chapter of freedom in his life. I think you guys can handle the rest.
---
We wish you and your family nothing but blessings!
With great respect and appreciation, 

Hillary Sanford - Davenport Florida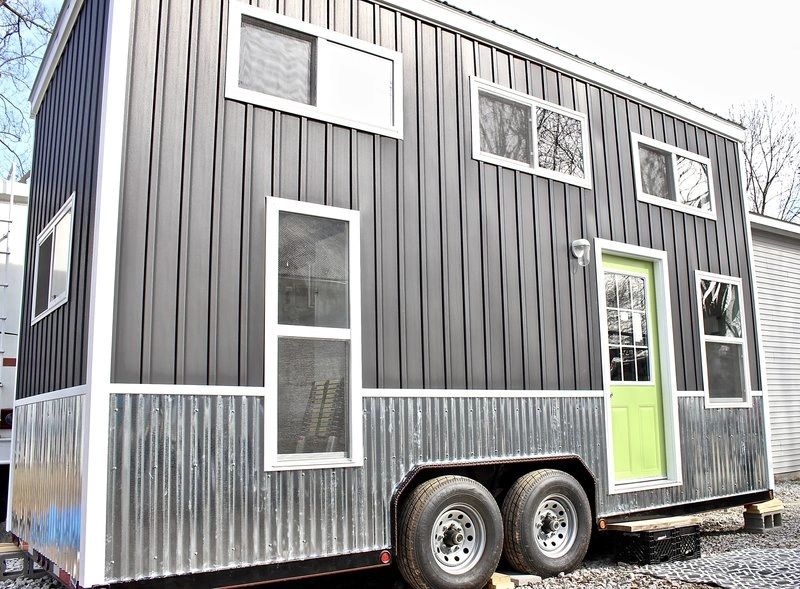 I hope all is well in your neck of the woods...I wanted to take a moment and write you concerning my experience recently with Mini Mansions Tiny Home Builders.  I will start with explaining the idea of where "Tiny" living began. for me. Back in 2007 I purchased a home at the height of the market.  I used every penny I could in order to qualify. A short time later, not only did the property value drop dramatically, but there was no light at the end of the tunnel. I went through about 5 years of hell: ruined my credit; and swore I would never do that again. This is where the idea of living tiny began. I decided that day, I would live in the best space I could, debt free, under any circumstances necessary. I wanted quality of life over possessions. I did my research and truly looked into every company I could find out there. My Mom and I attended shows; and of course we watched about every episode of any Tiny House show

television had to offer. Needless to say, I felt prepared to find exactly Tiny Home for myself, and my future.  

A few months back, while searching as I always do on line, I came across this sweet little home on Pinterest. From day one, it just felt right. I tried not to get too excited in case it didn't work out. I tried to anything that grabbed my attention more than this model, was more economical, and/or better quality. I came up short day after day. No matter how hard I looked, this home, and your company was in a league of its own!!!  I decided to make a phone call, and pray the home was still available. From that point on, it was truly meant to be. No matter how many questions I asked, or emails I sent, one of you responded. You were patient, kind, and genuinely made this process as simple as possible for me. I was very nervous to take another leap, and spend everything I had on another home.  Something told me though, take the chance. Boy, am I glad I did. I feel like the luckiest girl in the world!

The day of delivery was finally here.  As I got on the highway headed towards the delivery location, there it was… the 20' Chic Shack Tiny House!!! Excited, is an understatement. I'm surprised you couldn't hear me screaming in your state. :) I made it to the delivery spot and hopped out to greet Mark and Paul. They were awesome with me that day.  Together, they truly made the day a joy. No matter what we encountered during the set up, they found a solution without me even knowing there was anything wrong. It was zero work/worry for me. I could truly enjoy watching my future get settled in place. I waited to walk inside until my Mom arrived.  My Mom is truly my partner in everything life brings my way, so I had to share that moment with her.  It was so difficult, but I knew it would be worth it. She finally arrived, and as we walked in, it hit us and at the same time.  We hugged, cried, and both said, "It's so much better in person"! The home felt warm, spacious, and like a true piece of craftsmanship. There wasn't a thing out of place. Not a screw sticking out or a chip of paint missing… it was perfect!!! We instantly became the most popular kids on the block. We had more friends than we ever hoped for. The house spoke to everyone; young, old, small, and large. It was special.  The home is truly amazing! To see my Moms reaction, made it all worth it for me. We were overjoyed! From top to bottom, it got better with every inch we discovered. It definitely made you feel something. My mom said it best, I think. She said, "When you walk in, the house wraps you up in a big hug". It just can't get better then that!

It has been about 3 weeks now, and I must say we are over the moon with it.  This Tiny House has been the best decision I have ever made. I am so glad I get to experience this with my Mom, but also that I chose your company for this part of my life's journey. I told my Mom the evening after the delivery, that I felt as though I not only achieved a long time goal; but that I also had a soul cleansing. I felt alive and new.  I have had about the toughest year of my life in 2016, and to stand here today, on the other side of it all, with this home as my own, felt amazing. Everything I had to go through was so worth it, to be in this place now.  Having met and interacted with all of you; the encouragement you have given me; I'm a renewed spirit. It may sound silly, but I am speaking the truth when I tell you, you have truly changed my life. To say "thank you", could never be enough. I appreciate the time, attention, concern, and consideration you have given to both my Mom and I. You are wonderful people, and your homes are truly outstanding. I know this is right where I am supposed to be in my life now; and being in this Tiny House, makes it feel even more right. I wish you all the best! I hope that others out there will take the leap as I have; they won't be sorry! You are very special people, and I feel truly blessed to have been put in your path. I will never forget all you have done, and want to thank you with all my heart  for making my Tiny Home dreams come true!
---
We appreciate it so much! Take Care!

Matt and Jess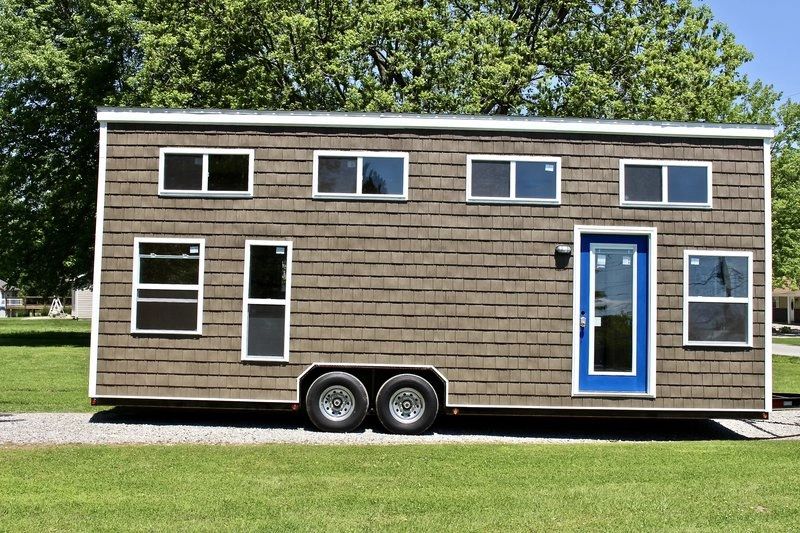 I can't thank you enough for our super cute tiny home! Throughout the entire process, you two have been wonderful making sure that every little need of ours was taken care of. I knew the moment we came to your place to go over the design that we would not regret building this home with you all, and that still stands true today. 
When we started the journey of looking for someone to build our tiny home we knew we didn't want a big company who just builds and forgets.  We wanted more of a family company that would remember our names when we called and would also put our wants before just making money. We definitely found that with you two. We never felt like just a customer, we felt like this was as important to you as it was to us and for that we can't thank you enough. 
Even throughout the time of delivery and afterwards you both were still there to answer all our crazy questions. Thank you so much for the time and effort you put into both our tiny home and us. 
---
Thanks again so much!  
We appreciate it so much!

 
Take Care! 
From all 4 of us

: Kara, Liam, Blue (dog), Obi (cat)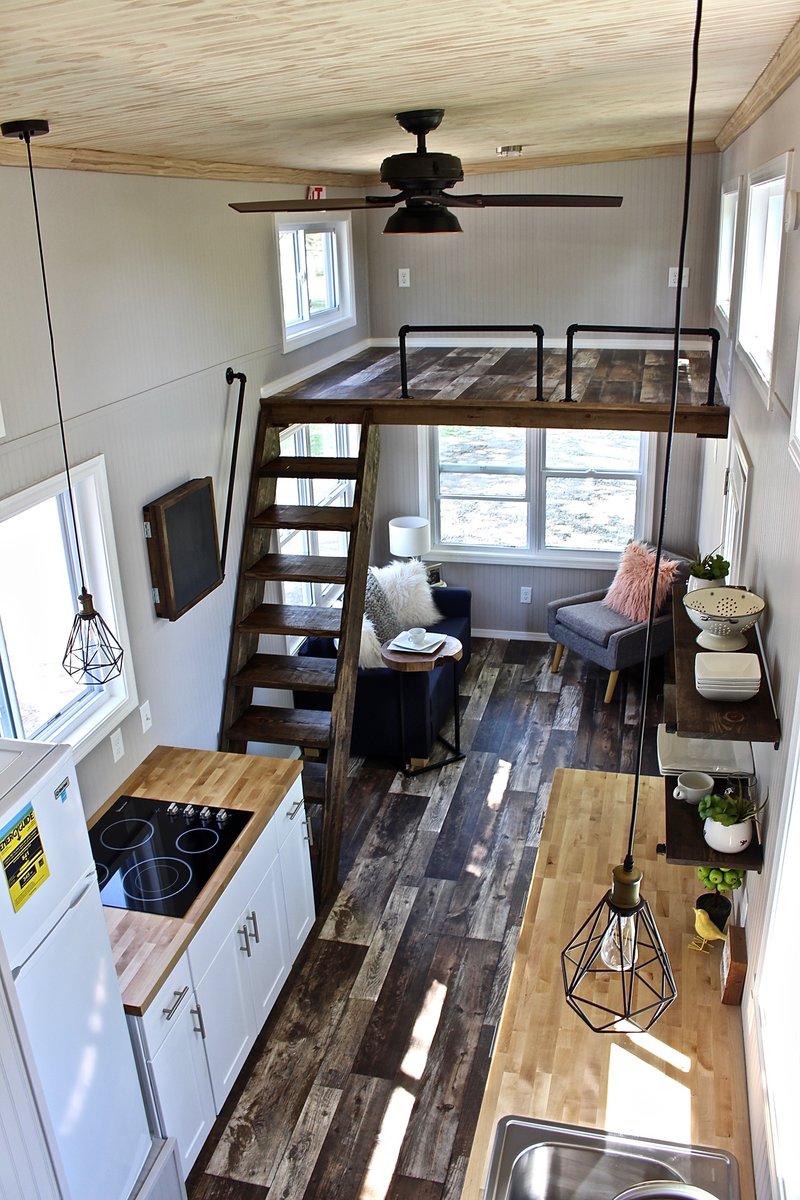 Six months later the floors still look great (even though we have a dog and cat). The plumbing AC/heat, and appliances are awesome. We still get excited to show off our place because the lofts and open kitchen make it feel much bigger than 200 sq ft. It also feels like OUR home. Thanks to working with you two over the phone and email before and during the building process we were able to tweak, add, and remove whatever we wanted. With your feedback and ideas we were able to design something that really felt like our own. Thanks so much for such an awesome home. We have lived in it now for six months  (time flies when you're living tiny)!  Six months ago when you dropped off the house  we didn't know what we were doing but we knew what to expect. We knew what to expect because of the frequent pictures, phone and email updates we got from you during the building process. And it was ok that we didn't know what we were doing because YOU did. You guys went above and beyond in making sure or transition into this new lifestyle was smooth. When we were originally setting up our utilities days and weeks after you were so helpful! 
---
What a wonderful transaction and connection.
Love,

Cassie & Mike DeCavalcant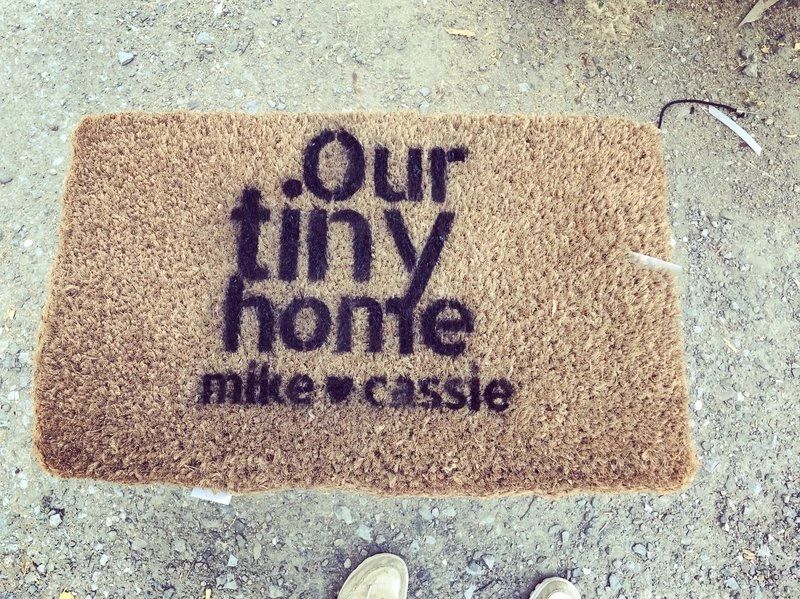 Our Mini-Mansion has been a dream come true. It is so luxurious and well detailed. Our stainless appliances and copper sink as well as our giant soaking bath tub and   incinerating toilet make our new, individualized home ideal for us. We never had an asset this new and nice.  Plus,  all of our systems including, electrical, hot water, AC, heat, cooking, and drainsbare functioning at the highest level and with ease.
Equally important in this building process were the intangibles and very personal touch. Mark and Emily held our hands through the construction and sent us lots of progress photos. Their "in-person" delivery of our Tiny into a  really tight spot was miraculous and the prayer we shared in the kitchen was blessed. We felt that they built and delivered our home with Love. That actually makes quite a difference.
We further built some modular cubby steps leading to the main loft which can be placed such that the couch becomes a full, third, guest bed. We also did tinted windows, blackout curtains and an exterior cover to keep our abode more discrete and private in its current setting. Our small end-room is for meditation, yoga and movie screenings. Our 2nd, tiny loft is filled with a mattress, giant stuffed animals, and a snuggled-in girl, age ten.